March 2021
GIMER starts a 30-patient trial in Taiwan
After several rounds of communications with TFDA, we started a 30-patient trial in Taiwan. The trial is a short-term, multi-site, randomized, sham-controlled, double-blind trial with one-way crossover. The trial is recruiting in 4 sites in Taiwan and is expected to finish by June.
March 2021
GIMER submitted IDE in March 2021
2020 was a difficult year for the world. Unprecedented pandemic slowed down all activities.
GIMER is lucky to be based in Taiwan, where business can be conducted as usual, thanks to strong border protection and citizen awareness. However, supply chain and other international activities were affected. In 1st quarter of 2021, we finally completed all necessary documents for IDE and submitted to FDA in March.
We're now addressing the deficiencies from FDA feedback, and looking to start global pivotal trial later this year.
August 2019
Dr. Y. R. Wen presented preliminary pilot study results at INS in Sydney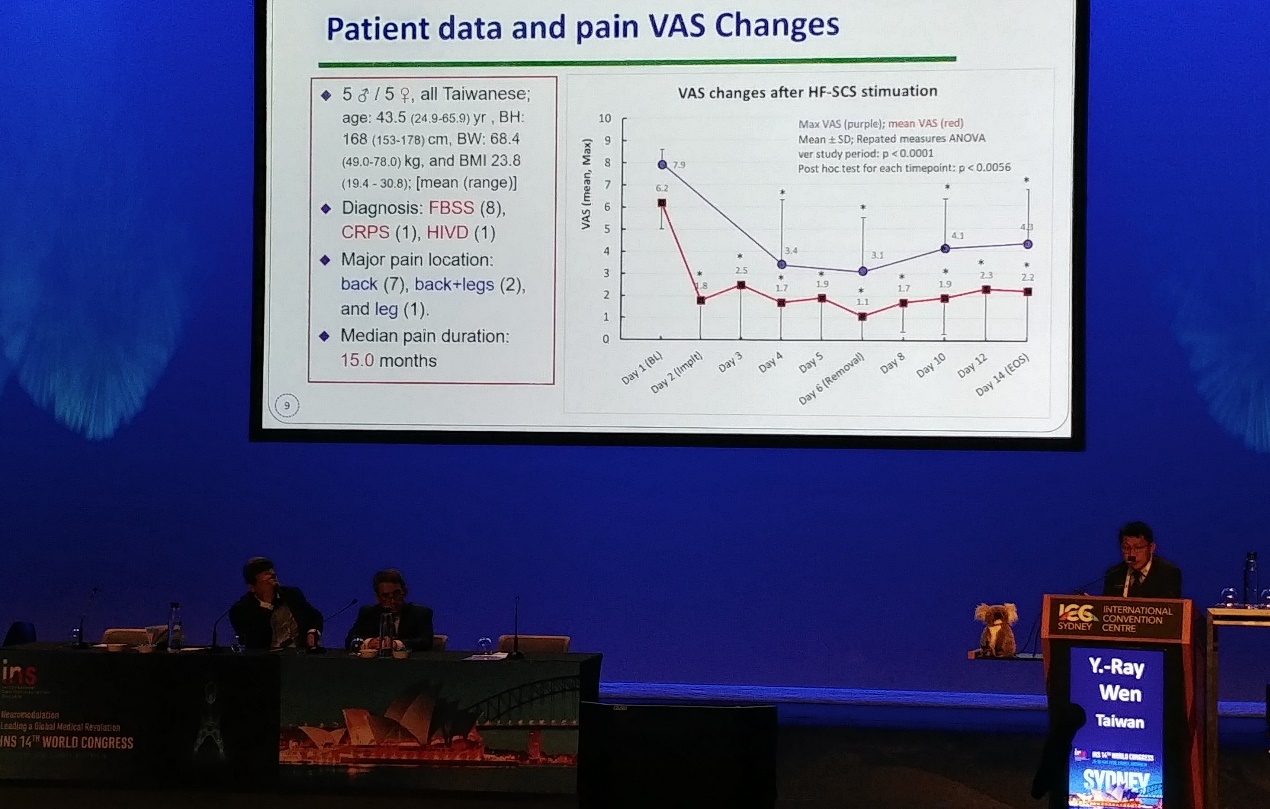 GiMer has conducted two pilot studies using our specialized 500KHz parameter for implantable Spinal Cord Stimulation in Taiwan (@China Medical University Hospital in Taichung, Taiwan)
The results of two studies were presented at INS this May 27th & 30th session by Dr. Y. R. Wen.
We are looking forward to starting our multi-sites trial next year!
April 2019
Signed up Medtronic MedTech Innovation Accelerator (mLAB) in Shanghai for China market development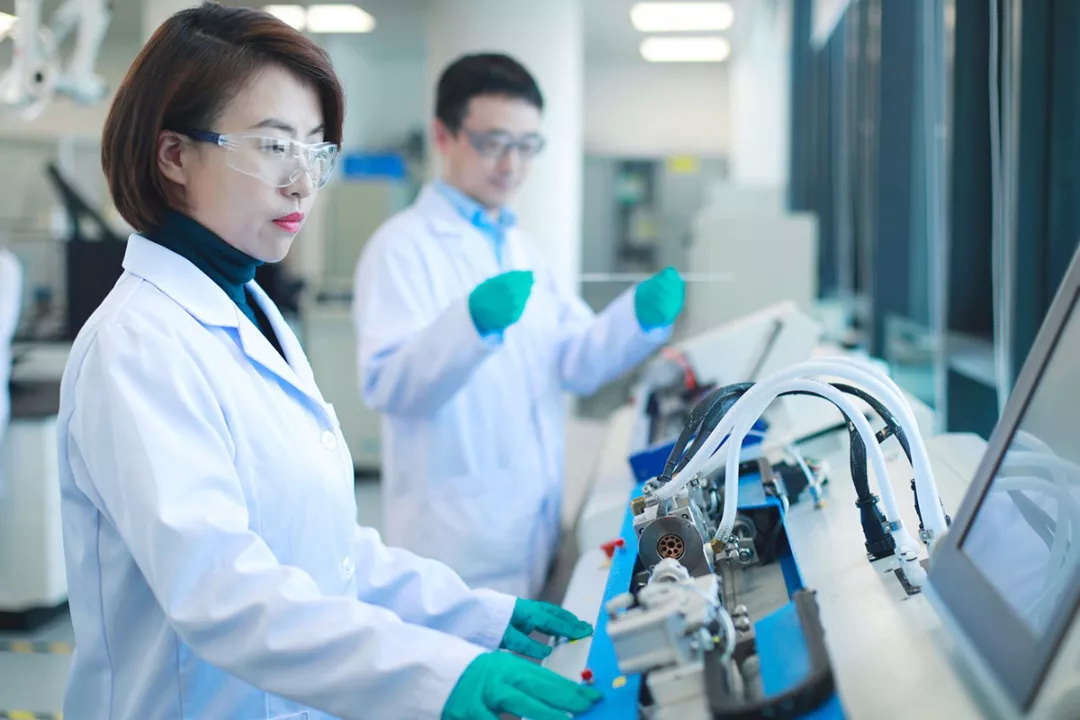 GiMer Medical is one of the first startup companies entering the newly formed mLab in Shanghai, sponsored by Medtronic China Venture.
In the future, the China subsidiary (or joint venture) of GiMer will focus on the manufacturing only for China market.
News released in wechat article:
https://mp.weixin.qq.com/s/jEc7WlXLXmyjeCFvgLYQ-g
More about mLAB:
https://www.massdevice.com/medtronic-launches-shanghai-based-medtech-incubator/
April 2019
Met with FDA for pre-IDE
GiMer Medical met with US FDA in March, for our next big step- a multi-center (mainly US) human trial.
We exchanged information and gained valuable feedbacks from FDA. We continue to sharpen our plans and expect to launch the trial in Q4 or Q1 next year.
November 2018
2018 台灣醫療科技展,敬邀請您前來與會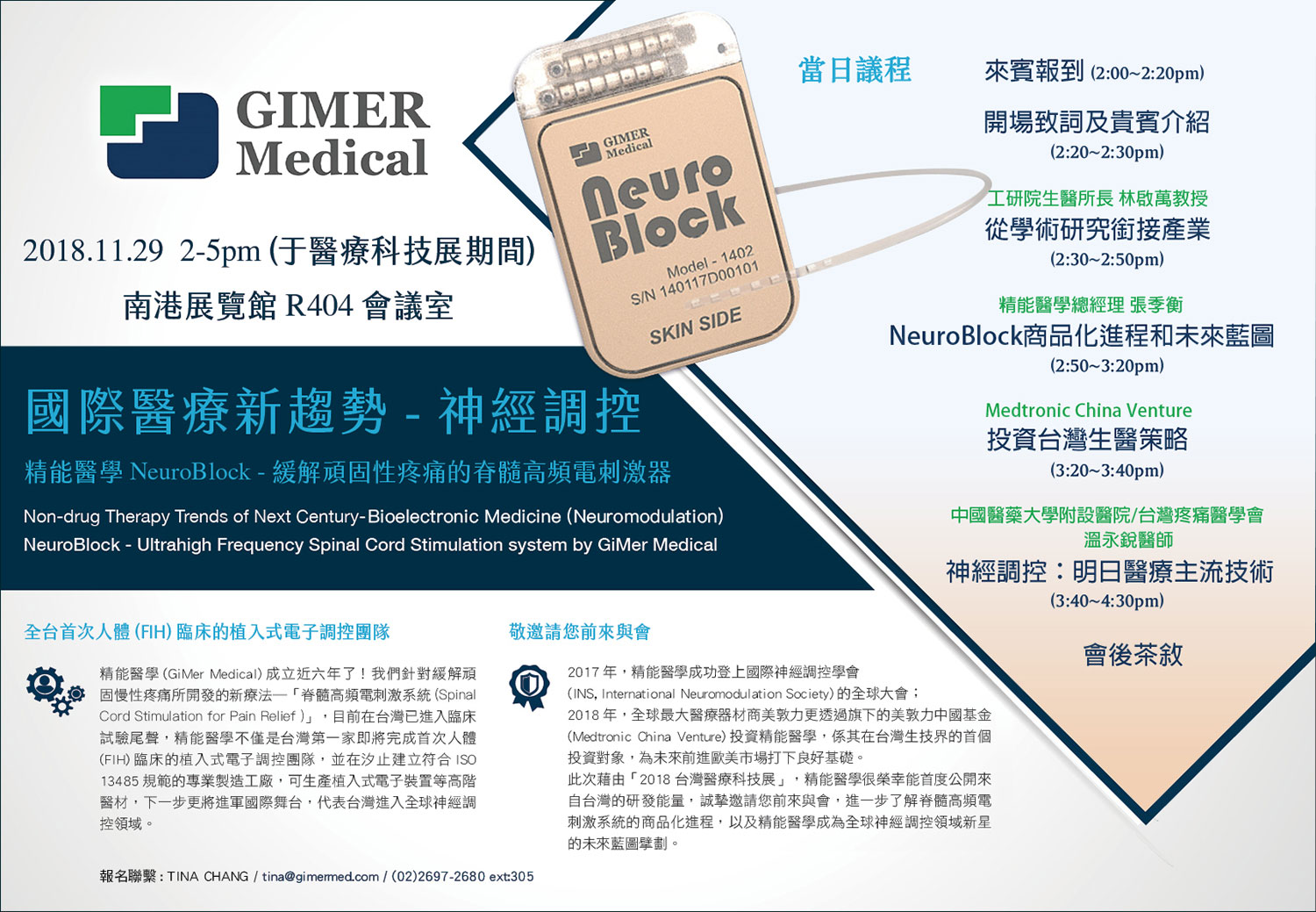 2017年,精能醫學成功登上國際神經調控學會(INS,International Neuromodulation Society)的全球大會; 2018年,全球最大醫療器材商美敦力更透過旗下的美敦力中國基金(Medtronic China Venture)投資精能醫學,係其在台灣生技界的首個投資對象,為未來前進歐美市場打下良好基礎。
此次藉由「2018 台灣醫療科技展」,精能醫學很榮幸能首度公開來自台灣的研發能量,誠摯邀請您前來與會,進一步了解脊隨高頻電刺激系統的商品化進程,以及精能醫學成為全球神經調控領域新星的未來藍圖擘劃。
精能醫學(GiMer Medical)成立近六年了!我們針對緩解頑固慢性疼痛所開發的新療法-「脊隨高頻電刺激系統(Spinal Cord Stimulation for Pain Relief)」, 目前在台灣已進入臨床試驗尾聲,精能醫學不僅是台灣第一家即將完成首次人體(FIH)臨床的植入式電子調控團隊,並在汐止建立符合ISO 13485 規範的專業製造工廠,可生產植入式電子裝置等高階醫材, 下一步更將進軍國際舞台,代表台灣進入全球神經調控領域。
August 2018
We've moved ! 2018 August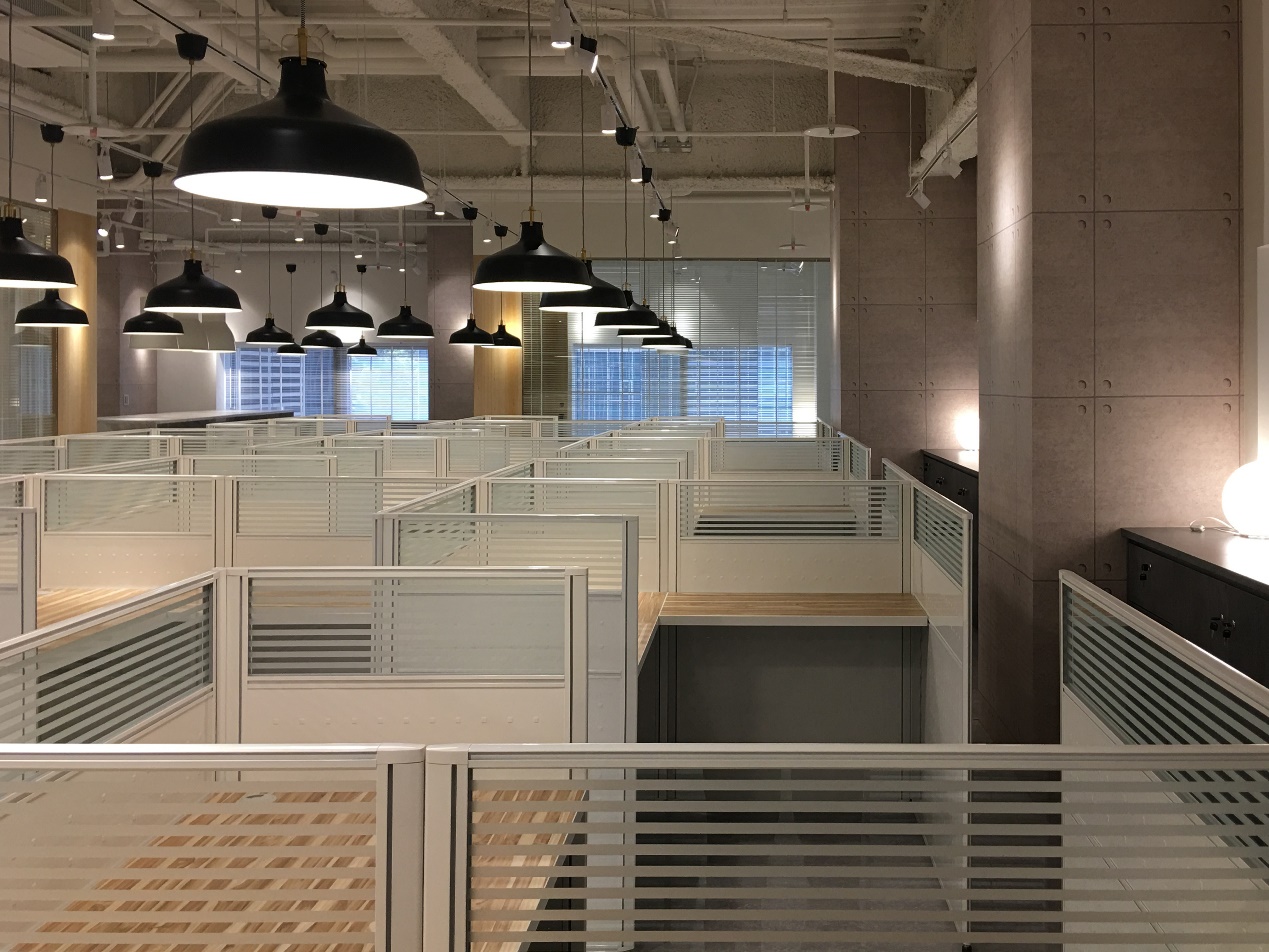 GiMer Medical headquarter moved from west of Taipei to east of Taipei. We're now located in XiZhi, New Taipei City.
Our new office is in a newly built complex called Farglory U-Town. It's conveniently located by Xike railway station.
The move of office is also symbolic for us that GiMer Medical has grown from a start up spun off from NTU to an established new company in Neurostimulation field.
Here're some pictures of our new place!
April 2018
GiMer Medical Sponsored 11th AASSFN @ Sun Moon Lake, Taiwan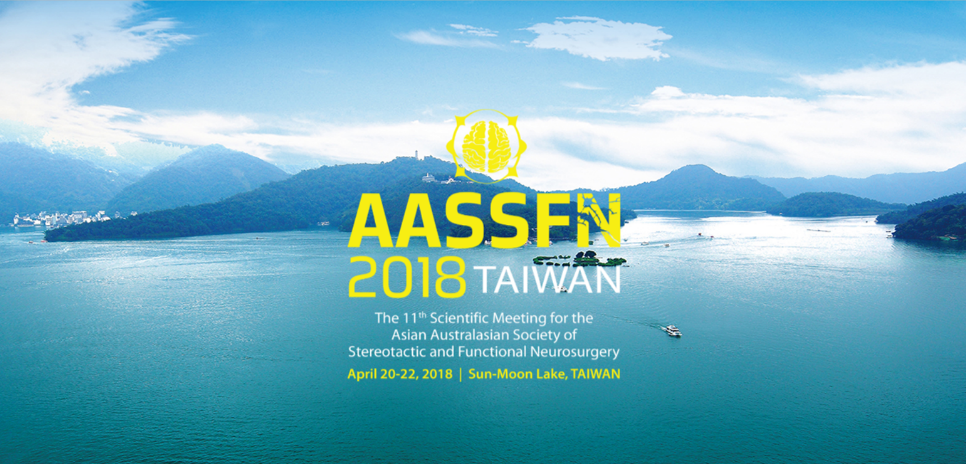 We have not been to AASSFN in the past years. This year it was to be held in Taiwan so we decided to participate proudly as the 1st R&D based Neurostimulation company in Taiwan.
AASSFN is one of the most significant events on functional neurosurgery; it provides a good platform for neurosurgeons and physicians to discuss progress and exciting new discoveries and technologies. The conference drew attendance of more than a hundred doctors around the globe, with most doctors from Taiwan, Korea, Japan, and China.
Lecture/papers focusing mainly on DBS, secondly on RF/Lesion (and MR guided Focused Ultrasound). SCS and pain related topics takes about one forth. It was a great place for us to learn more about other fields in Neuromodulation. The indications covered in the conference is broad. In addition to most well-known diseases treated by DBS/brain neurosurgery (Parkinson's and ET), we also see application on OCD, Tourette Syndrome, Dystonia, and even on pain, Alzheimer's, and to wake up patients in vegetative state. Other interesting neurosurgery includes intranasal SPG block for migraine or Trigeminal neuralgia…etc.
Application of SCS spans not only on pain by FBSS or neuropathic pain, but also on after-stroke pain and cancer pain.
Our affiliated anesthesiologist Dr. Wen (Executive Director of Taiwan Pain Society) shared the development and research of GiMer's NeuroBlock SCS. It was good learning at the conference and enjoyable seeing Taiwan attraction (Sun-moon Lake) be promoted. I'm already looking forward to joining the next conference.
October 2017
GiMer presented at 2017 Neurotech Leaders Forum and awarded Gold Electrode recognition!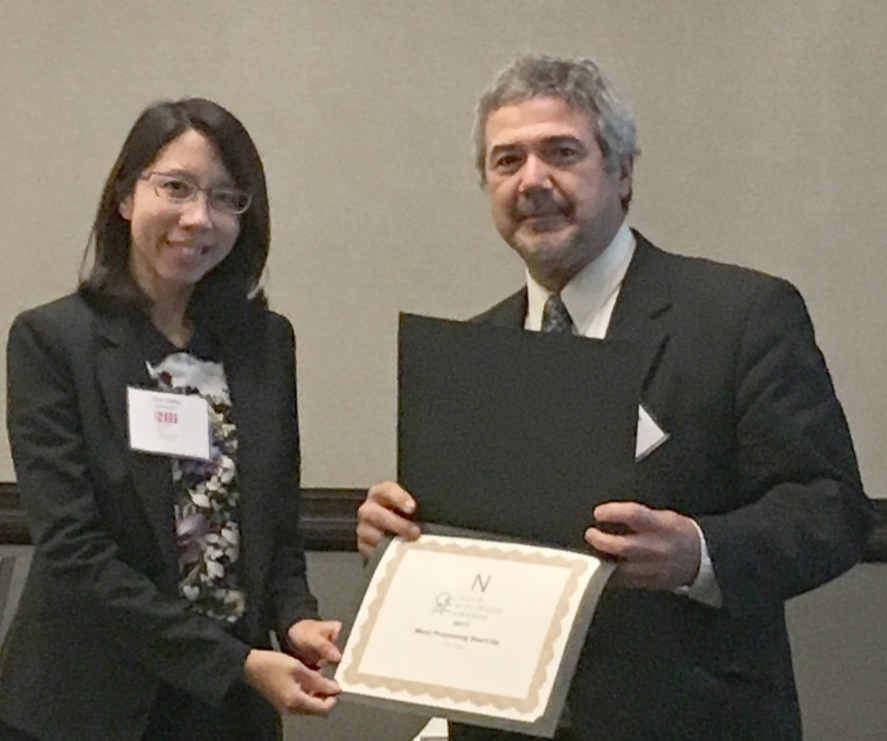 Thanks to Editor James Cavuoto's invitation, Tina presented GiMer's technology and progress at 2017 Neurotech Leaders Forum on October 23rd in San Francisco. Upon completion of the forum, we were called out to receive the Gold Electrode Award for Most Promising Start-up unexpectedly (and missed the award reception!)
GiMer is really honored to receive the award from a well-known publisher in the Neuromodulation space like Neurotech Reports. In 2018 we are going to complete our system (hardware) upgrade and have more clinical data in preparation for chronic feasibility study.
Here is the link to the award coverage:
http://www.neurotechreports.com/pages/2017-gold-electrode-awards.html
October 2017
Physician Interaction on GiMer UHF at UCSF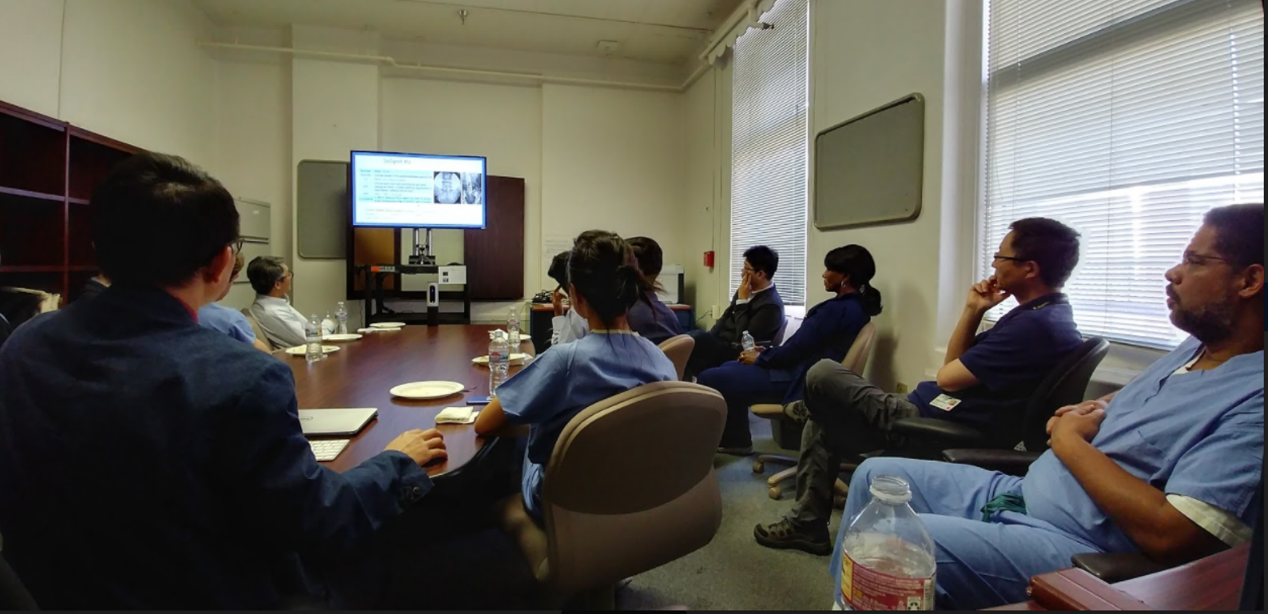 Thanks to Dr. Poree's invitation, Dr. Wen shared the researches and development of GiMer's UltraHigh Frequency stimulation. A room full of physicians attended the lunch n learn workshop in learning more about the application of PRF as implantable SCS in the future. The work is well-received, and thoughts/questions exchanged for further future exploration.
May.27~Jun.1 2017
GiMer Medical attended 2017 INS World Congress at Edinburgh, a successful event!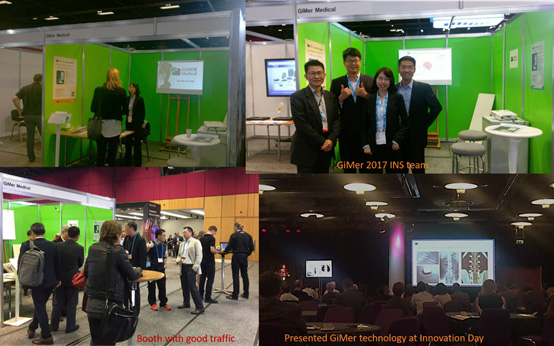 This is the first exhibition GiMer attended as participating exhibitor, and we achieved positive results in many aspects. The booth received good traffic and lots of inquiries; clinicians with potential interest to collaborate in future clinical trials, and distributors wish to work with us once product registered. Tina presented GiMer technology at Innovation Day, a pre-conference event that drew investors/regulator/press/major players in the field. We attended various scientific sessions and learned about latest developments/researches in Neuromodulation. Networked with relevant professionals, and strengthened our relationships with potential collaborators. A big thanks to INS who put together this substantial event, and we felt proud to take part in making it great together!
April 2017
2017 INS Congress in Edinburgh 5/26~6/1

GiMer Medical cordially joins 13th INS Pre-conference "Innovation Day" as panelist. Rex and Tina will present our technology and share our progress as one of the 12 start-ups. Related press
link
Supplement on the funding info: GiMer is currently funded by Taiwanese investors/companies and actively looking for US partnership/investment to prepare our US entry. We welcome press coverage for more detailed story. Please contact Tina at
tina@gimermed.com
February 2017
First-in-human Pilot Study kicks off!
Finally we've gotten final approval from (Taiwanese) IRB committees after months of communications with dozens of document modification exchanged.
We're recruiting patients starting this months in Taiwan.
Stay tuned for the progress report!
January 2017
NANS 2017 in Las Vegas & Large Animal Tissue Safety Experiment
We attended NANS in Las Vegas for the first time. It was a good exposure to the field and lots of great learning and connections!
We met with potential investors and connected with leading doctors in the field. Also good learning from poster sessions on MOA related research and industry updates.
Our US trip is packed and fruitful- practical learning and feedback form our hands-on sheep trial, great info and connections at NANS, meetings with potential future partners, and last but not the least- recruiting leading doctors to be on our scientific review board.
December 2016
National Innovation Award for Enterprise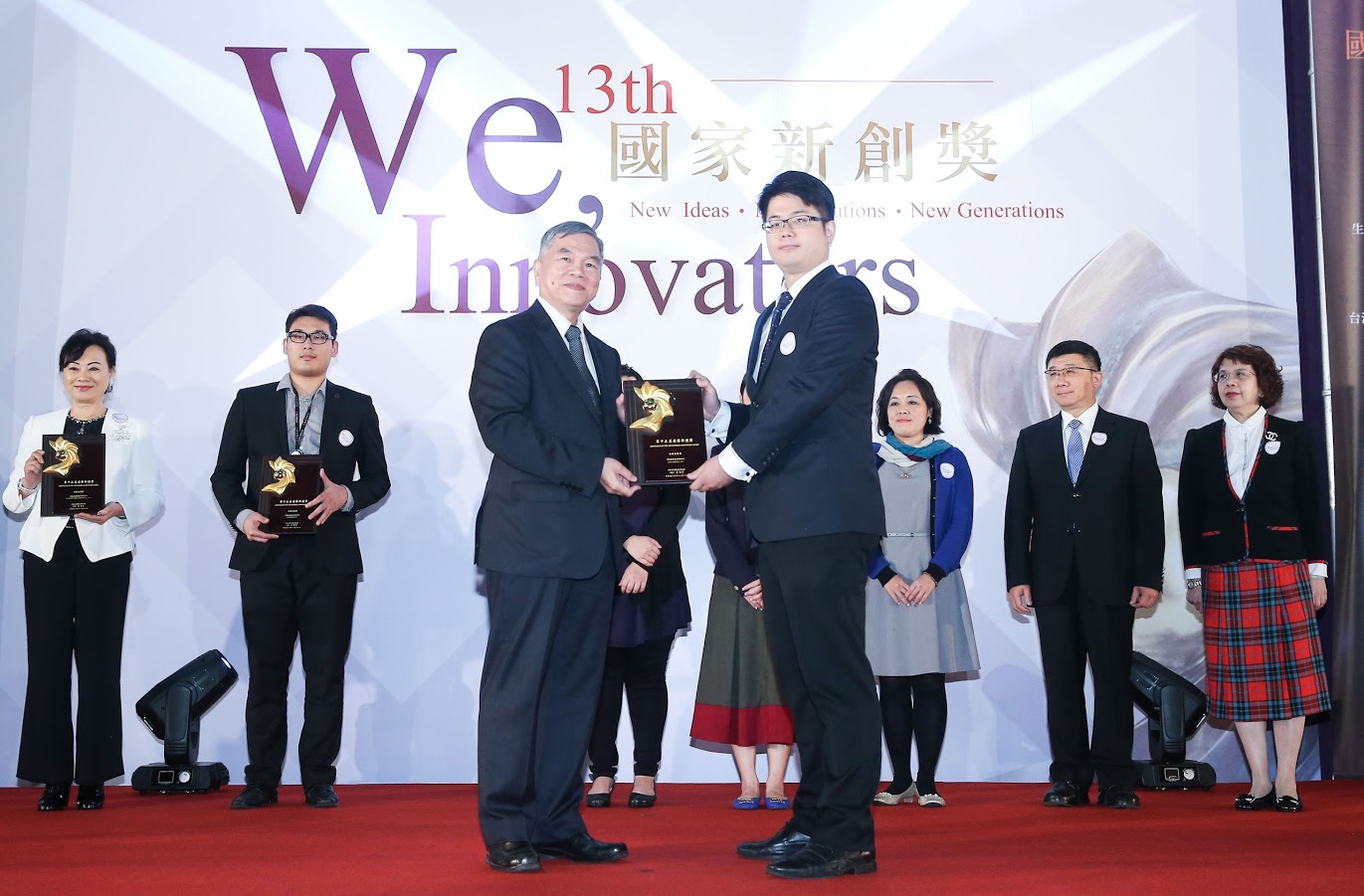 Second time winner of National Innovation Award. GM Rex attended the ceremony on behalf of company. Two years ago we were awarded for Outstanding Academic Research Spinout; this time for Best Start-up Company. With all the hard work and crucial milestones planned out for 2017, it would not be a surprise if we win it for the third time in a couple of years!
June 2016
The Asian Entrepreneurship Award
GiMer Medical won The Asian Entrepreneurship Award 3rd. Prize.
Read More
November 2014
Invited to speak at workshop
CEO invited to speak at 3rd Annual Cross-Strait Pharmaceuticals and R&D Workshop.
August 2014
National Innovation Award
National Innovation Award for Outstanding Academic Research Spinout.